The Steinways - Unoriginal Recipe
It's Alive Records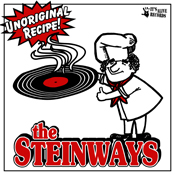 For the most part, there are two types of Steinways songs. There are the sappy but silly Screeching Weasel inspired 2 minute pop punk songs, and there are the 15 second, extra silly pop punk songs. Their full length,
Missed the Boat
, was full of both. Since then, they've released a 10", some comp tracks, and a split, all following this same formula.
Recently, It's Alive has released the Unoriginal Recipe 7", which is six songs, all pretty silly, but sappy love songs. My favorite part is that none of the super short, almost teaser songs are on here. It's six solid, well written, well thought out songs that show what the Steinways are capable of.
The A-side of record starts with "Good Morning Sunshine" which has an intro very reminiscent of anything off
Missed the Boat
, but it's got enough catchiness in the chorus to make it stand out on it's own. The song that stands out the most on the A-side, actually, is the third song, I Shit (You Not). Ace, the band's guitarist, takes lead vocals on this track, which is a bit different than anything on the previous full length, although I'm told he sings a lot more live. That song also has possibly my favorite line of the whole record with "and I promise not to let you go, even when the Riverdales decide to tour." Great!
The B-side has three solid pop punk tunes, with "Main Street, Flushing, USA" being my favorite song of the whole record, detailing the singer constantly running into cute girls on the 27 bus (Riverdales again?) as well as their "stupid looking boyfriend(s)." It's got the same tongue-in-cheek silliness that you expect from The Steinways mixed perfectly with a sappy Weaselish pop punk song. The last song on the record, "Voce Tem Labios De Uma Galinha", is, you guessed it, sung entirely in Spanish, and has a nice acoustic guitar lead throughout. Luckily, the 7" comes with translated lyrics!
Possibly the coolest thing about this record, which I missed the preorder on, was the Pizza Pack that you could get it with. According to It's Alive, The Pizza Pack is an actual pizza box stuffed with the following: a pizza crust color vinyl 7", a thermo printed cd-r, an insert, a poster, a standard 7" jacket, a magnet, a button and a t-shirt with the cover art for the record silk screened on the front. Limited to 100 - very cool.
Now, really, I can't wait for their new LP. Their Myspace is currently featuring a song from it! Go check
it
out.